This year was a great success for TACCOM. There were more vendors, greater accessibility for firearms owners to see the latest products out in the industry and was fantastic for informational events presented on the main stage with prominent personalities leading the charge (to see who was in attendance, please click here). Why would you consider attending next year and what were the positive (and negative!) points of the weekend? We're going to break it down and show you.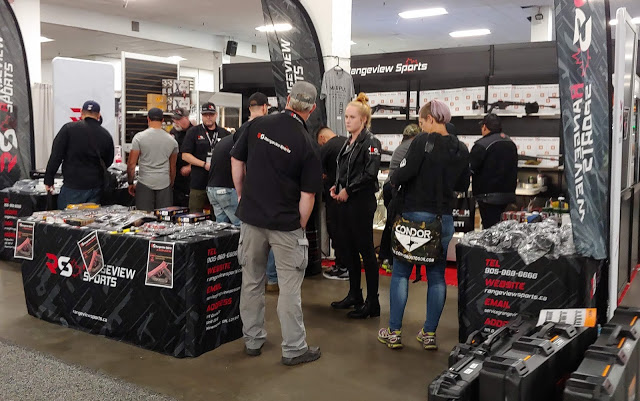 The Positives
Since the inception of online shopping, obtaining access to all thing's firearm related has been made easier for sport shooters and hunting aficionados alike. But there are certain things that you'll miss out on (like being able to hold and physically see what you like) and with TACCOM, the most predominant industry dealers are at this show.
All attendee's/customers can compare participating dealers, and their stocked items, from across Canada in one day, bringing greater accessibility to the customer. This leads to a more personal face-to-face with dealers to discuss products and not just on an over the phone communication or online, which, at times, can seem impersonal and doesn't lead to a strong relationship with your customer base.
There was also a lot of information sharing (first time Canadian shooters can get a feel for the industry and which direction it is going), and the information was presented by notable personalities such as Amanda Lynn Mayhew, Rod Giltaca of CCFR, Michelle Remple, Lovie Malespin and numerous panel discussions including topics such as Firearms Instructors, Canadian Firearms Landscape (The Good, The Bad and the Ugly), Women in Shooting Sports and Proposed Government Changes to Firearms Law that included a wonderful panel-audience interaction.
One of the most unique parts of TACCOM is that you get to see items in person that may not be available outside of the show environment. There are prototypes that manufacturers send to dealers so they can get hands-on feedback for future production so essentially you, as an attendee, get an opportunity to have your voice heard.
The Not-So-Positive
There isn't a lot of negative feedback. The only thing worth noting is that some dealers didn't bring any firearms (when firearms is what they sell!) or some chose to bring low level products only. Most however, brought a nice mixture of low, medium and high price firearms. This provided options for all levels of shooters and all levels of income.
If there was one other complaint, it would be that we wish more businesses in the industry would be here with all of us. We want nothing else but to see continued growth of this event.
Final Impressions…
There really proved to be something for everyone at this show. There was a high-end custom suit maker onsite that offers ballistic protection as an add on to their amazing quality products. There were air soft and paintball ranges onsite for those enthusiasts. There were products to help with training and products for storage and transport as well as gun clubs and ranges promoting their businesses. This was truly a full spectrum event and represented the best in the industry. Hopefully next year, we'll see them all back here with a bunch more to show a continued growth of our amazing industry. We hope to see you there!