Avid shooters and firearm owners more than likely know exactly which of their pistols feels the best and shoots the best for the application (general range shooting or competitive circuit). And they also know exactly how much they like to spend on a handgun. However, for the new shooter or one on a strict budget, it's hard to know exactly which one to buy. There are some really great pistols available under the $500 threshold and a few just a bit above it. The most popular pistol in this range is a 9mm and that's what we've used for our control when examining the options. We chose three different pistols that we feel are consistent, accurate and budget friendly. Here they are in order of lowest to highest cost.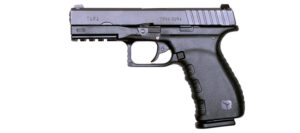 The Tara TM9 is a semi-automatic pistol with double / single action trigger and internal striker. It features a DARE trigger unit which offers very short trigger reset (about 3mm) when firing in Single Action mode and is combined with the necessarily longer, but relatively light, traditional double action trigger pull. It is made with steel slide rail inserts and the frame from polymer. The slide is machined from stainless steel. All parts are covered by corrosion- and wear-resistant finish. Dovetailed into the slide, this pistol is equipped with three-dot sights which can be easily replaced by aftermarket luminous sights. The design is backed by a 50,000 round factory warranty for all major parts. You get a lot for very little in this pistol for a nice easy price of around $369.99.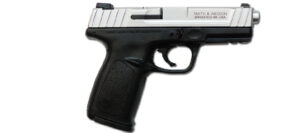 This distinctive two-tone finish pistol has a lot packed into it. With an SDT™ Trigger (8 lb. +/-) you get a smooth, consistent pull round after round. It has a slick look with a black polymer frame with a stainless steel slide and a 4-1/4-inch barrel. It comes stock with white dot front and rear sight. The SD9VE comes with two 10-round magazines in the box. It boasts an ergonomic and textured grip for comfort and a standard picatinny style rail. You get all this for an easy price of around $399.99.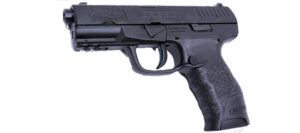 Our top pick is this beautiful piece. The Walther Creed is truly a remarkable pistol for the budget conscious shooter. With this pistol you get superior ergonomics, unparalleled accuracy, excellence in trigger design, stunning quality and reliability. Also, it boasts a reinforced polymer frame, signature ergonomics which is what Walther Creed is known for. The Creed features a pre-cocked double-action trigger system and a bobbed hammer which provides the shooter with a light and smooth trigger pull. It possesses an ambidextrous magazine release, front and rear cocking serrations on the slide and low profile steel 3-dot sights. These qualities can be compared to pistols at the $7-800 range but can be yours for the incredible price of only $499.99. The Walther Creed really does stand out on its own from the competition. 
There you have it. Our top three picks for 9mm pistols under $500 for the budget conscious shooter. Each of these pieces are unique and packs in many features that any firearm owner would be proud of.